MULTI BIS BISS Am/Can GrCH Backcountry Hemmental DD, CGN
co owned with Wendy Bennett
Hemmi is a dream come true! She's had an incredibly successful show career in both Canada and the U.S. She has 6 Best in Shows to her credit (the first one before she was even 18 months old! In 2009, Hemmi was Best Oposite Sex at the Westminster Kennel Club dog show. Later that year, we travelled west to Portland, Oregon where Hemmi WON the AMERICAN NATIONAL!
Since then, Hemmi has retired to the whelping box. She's had two litters and will now be spayed. We're looking forward to returning to performance events!
BPIS BPISS CH Backcountry Live Laugh Love
co-owned with Wendy Bennett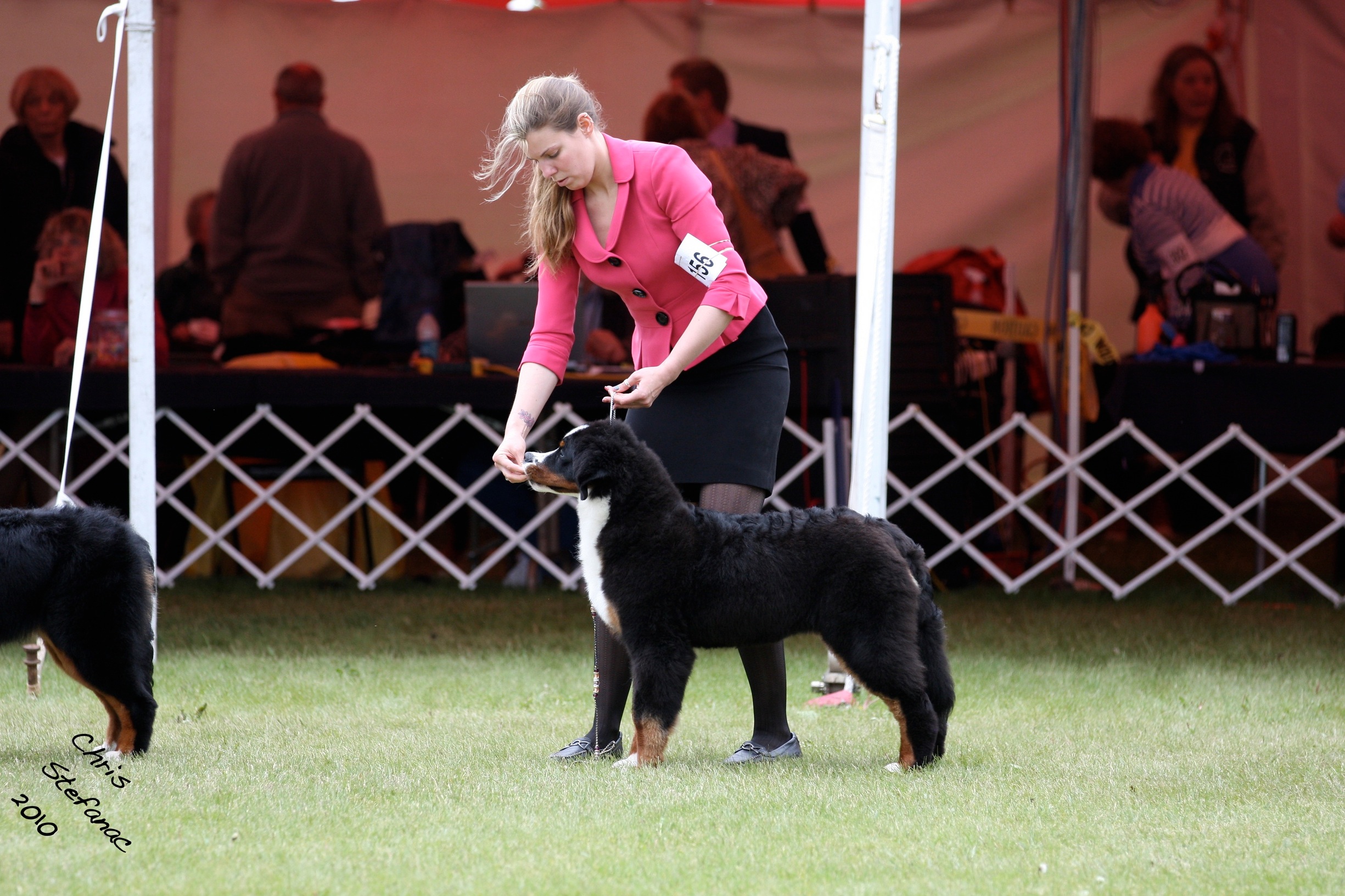 Liv is already following in her mother, Hemmi's, footsteps. Livy was able to compete at the BMDCA National Specialty on her six month old birthday! She looked so little compared to all the older puppies. She held her own, winning BEST PUPPY IN SPECIALTY show.... the year AFTER her mom won the national! She returned home and the following week, picked up a Best puppy in show in Canada. Livy boasts the big, floating side gait that her mom and grandmom (who she is linebred on) encompasses. She's a fun girl and I think we will have a blast in performance events when she is old enough.
CH Backcountry Lionheart
co-owned with Wendy Bennett
Richard is Liv's brother. He is such a sweet boy, I fell in love with him when he was days old... he would sleep in my hands and on my chest while I watched TV. Now, with him almost 100 lbs larger, not much has changed. He's also exceeded my expectations in the show ring at a very young age. He placed in both of his classes at the American national, on his 6 month birthday!
When we returned to Canada, he continued on to finishing his Canadian Championship by the time he was seven months old. He's now relaxing at home taking time to grow up!
Backcountry No Fear Am/Can CD, DDX, CGN
Russell certainly has a special zest for life! He is a lively boy that had tons of drive to work. He obtained his CD and DD easily... always eager to do more and faster than I could handle. As much fun as I have had working with Russell, he really only has eyes for Scott. Whereever Scott is around the house, Russell isn't more than a few feet from him. Russell is now a veteran... 8 years old. He's having a harder time getting around and can no longer go for the long runs that he loved so much. He's still a bright, happy guy and since we only live a couple of kilometers from the beach, Scott can take him there for regular swims. We hope our token veteran is around for many more years to come!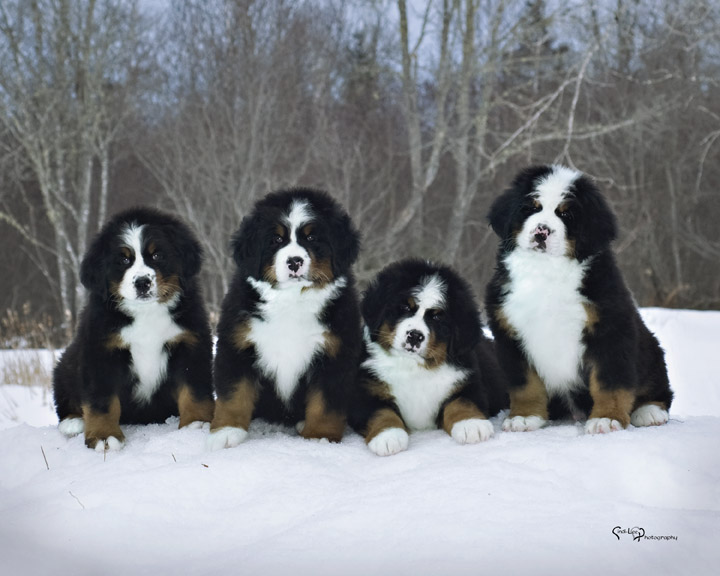 Hemmi's"L" litter at 8 weeks Leah (owned by Jocelyn Arsenault and Sue Hall), Liv (resides at Backcountry), Oakleigh (owned by Pam and Bruce Matthews) and Richard (resides at Backcountry)